Mars observations from 2018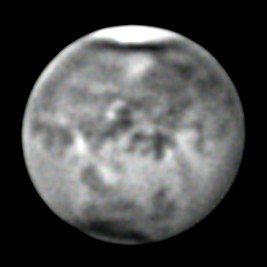 August 5, 2018. The above image of Mars was obtained with the ASI290MM camera fitted with an  850 nm cutoff long pass infrared filter and a 1.5x Barlow lens at the f/10 focus of the 13" Schupmann Medial telescope at MacGregor Observatory, Stellafane East.  Numerous identifiable surface features are visible, including Sinus Meridiane,Mare Acidalium, Mare Erythraeum and Vallis Mariners.  The white feature just below the South Polar cap is the large impact feature Argyre.  It's depth is exceeded only by Hellas.  Still full of dust.  RGB imaging in visible light only shows vague indications where Mare Erythraeum is and the Pole Cap.  See image below with latitude longitide grid.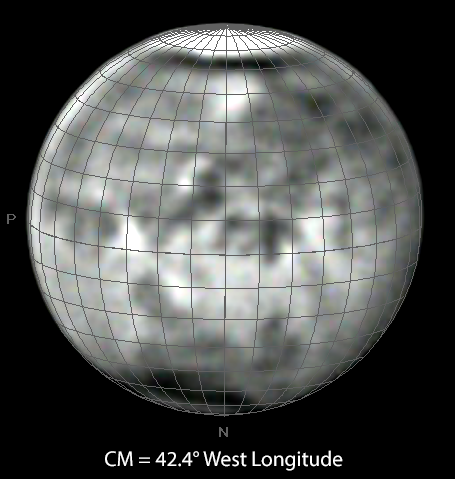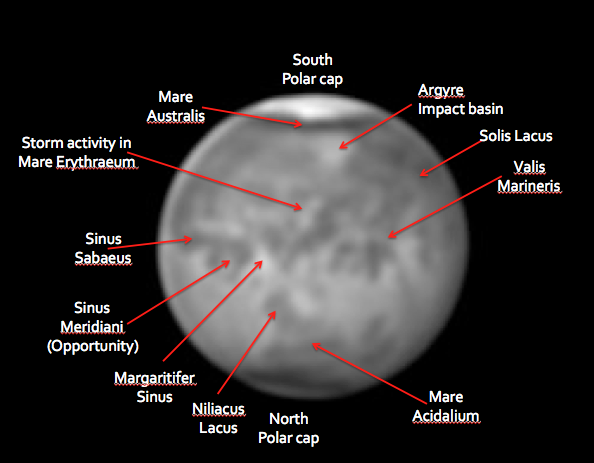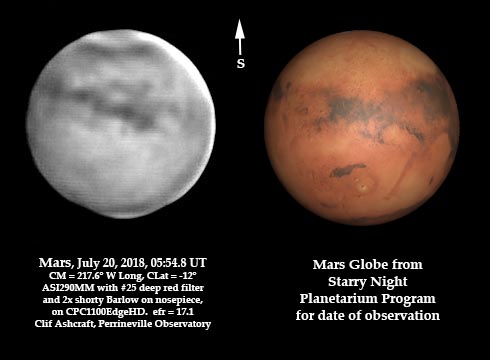 July 19, 2018.  The image shown at the left is a de-rotated stack of 9 images obtained from 120 second videos taken with an ASI390MM camera equipped with a #25 deep red long pass filter and the optics from a 2x shorty Barlow screwed onto the nosepiece. Effective focal ratio on the C11 is  f/17.1.  The central meridian is 217.6° west longitude.
       The eastern part of Mare Cimmerium appears dark in my image, but not in the Starry Night simulation.  The reason for this is that the Starry Night simulation is based on the appearance of Mars after another global dust storm which left a layer of reflective dust covering this region.  More recent images show it dark (the dust got blown away) as it appears in my image and the BAA map.  It is interesting that Elysium Mons (the volcano in the Elysium region) does not show up in my image.  I take this to mean that the volcano summit is not high enough to poke through the dust layer or that the dust is unusually thick here.  From July 25 til past opposition, Olympus Mons and the volcanos of the Tharsis Ridge will be facing Earth.  I expect to see them sticking up through the dust even if the storm has not subsided since their entire summits and calderas are above 20 km altitude.
A portion of the BAA map created by  Shiro Ebisawa from observations made in the 1950's.  It is my
standard for nomenclature of albedo features.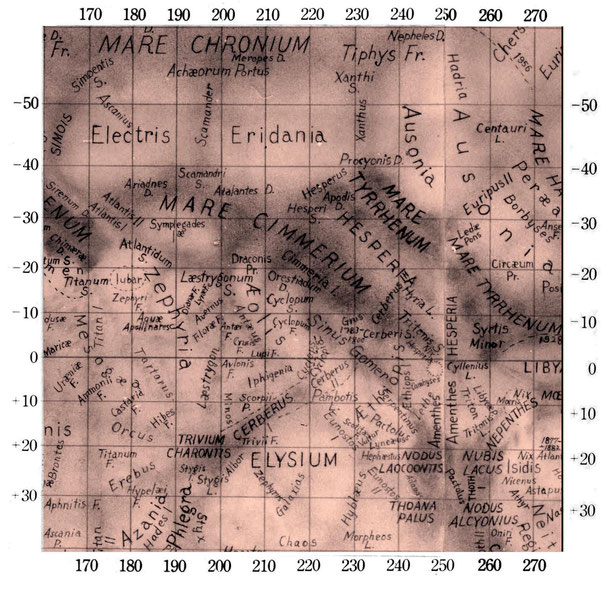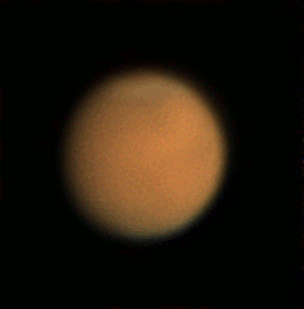 June 30, 2018. This is an animated GIF made from a set of 14 images of Mars taken with the ASI224MC, ZWO atmospheric dispersion corrector 2x Barlow on the C14.  Focal ratio was about f/27.  Seeing was below average.  Note the dust is obscuring nearly all surface features except the south polar cap.